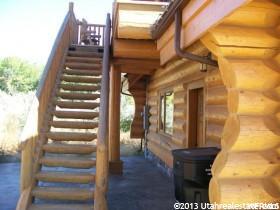 $349,000

in Duchesne


2 Beds 2.00 Baths 1,451 Sq Ft


Seller's agent: Gerald Wilkerson, Realtor®


Brokered by Western Land Realty, Inc
MLS #1353374 <--- click to view full listing


"This is one of the most beautiful cabins ever built in this area. It is totally built out of Canadian hand-peeled logs up to 18" in diameter, and made to fit perfectly. It has a heat pump, radiant floor heat, and central air. There is a beautiful rock fireplace, where the chimney is also built to accommodate the outside fireplace, located on the deck that fronts the Duchesne River. There is 200" of river frontage with good fishing for brown trout. There is also a 2 car garage with a very nice, totally finished and equipped apartment above it. The apartment is 720 sq ft. The entire garage and apartment are also built entirely out of Canadian logs. The Strawberry River is ½ mile away and it is 5 miles to Starvation Reservoir. There is great hunting, fishing, and all outdoor activities in the immediate area. This would make a great company or corporate getaway, or just a one-of-a-kind retirement place for people who will accept only the very best at an affordable price of only $349,000(dropped from $399,000)."...