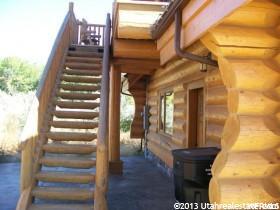 $349,000

in Duchesne


2 Beds 2.00 Baths 1,451 Sq Ft


Seller's agent: Gerald Wilkerson, Realtor®


Brokered by Western Land Realty, Inc
MLS #1353374 <--- click to view full listing


"One of the most beautiful log cabins ever built in this area, with hand peeled Canadian logs up to 20" in diameter. Three stone gas fireplaces, including one on the outside deck which sets above the Duchesne River. 200 feet of frontage on the river, you can fish for Brown Trout steps from the back door. Granite and stainless kitchens, wood floors and travertine tile throughout. Separate 2 car plus hand peeled log garage with upstairs studio apartment, 720 square feet. Starvation Reservoir is five miles away, with quick access to beach and pavilions, and the Uintah Mountains are an easy 20 minute drive away. One acre property. Furnished except for log beds and rugs in the main house. $349,000, just over half the finished cost."...