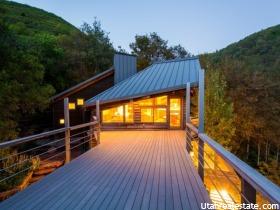 $980,000

in Salt Lake City


3 Beds 3.00 Baths 3,704 Sq Ft


Seller's agent: Cody Derrick, Realtor®


Brokered by cityhome COLLECTIVE
MLS #1320744 <--- click to view full listing


"We're all about breaking the mold. We adore the movers, relish the shakers, and we proudly "hear, hear!" the makers. Magic happens when genres are crossed and boundaries are broken, so we love those bold enough to go where few have gone before. Take, for example, this tranquil one-off in the hills. It's part contemporary cabin, part mountain-infused modern, and all that and a bag of trail mix. We'll start with the location, since–nestled snuggly in the hills of Emigration Canyon–it happens to be, in a word, sublime. The space is completely private, with views that rival that of the ol' Swiss Family Robinson sweet treehouse setup (and, since it's seated on nearly 15 acres, you'll quite literally have views for days). This custom space has been fully outfitted for optimal outdoor space enjoyment, which brings us to the deck (that deck!). The possibilities are endless here, but we're thinking full outdoor dining set–candles, flatware–the works. (We'll bring the champ.) Inside, you'll find a space that's equal parts spacious and cozy (a nearly impossible combo to pull off, we might add). Hardwood floors, wood paneling, hiiiiigh ceilings...oh, yes. There are staggering views (and crazy-beautiful light) in nearly every room, and there's more than enough space to house friends in this city-adjacent escape. The previous owners (one a Nobel Prize winner; the other an artist/gardener–needless to say, the space is swimming in positive energy) championed the few snowy months the place has to be hiked-into with grace–even with a baby in tow. In short, this space is ideal for those longing for a tranquil retreat, but still looking pop downtown without a fuss. A wildlife-infused, modern space with plenty of privacy? That, friends, is what you call a rocky mountain high. Square footage figures are provided as a courtesy estimate only. Buyer is advised to obtain an independent measurement."...